30. maj 2022
New Regional Sales Director at Robatech
Goodbyes and welcomes in the Nordics. What changes?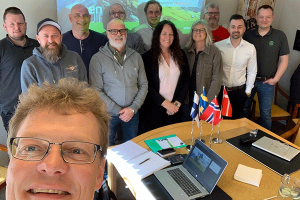 Rikard Jönsson is Robatech's new Regional Sales Director (RSD) for the Nordics. He takes over from Sören Tolstrup, who has retired after a long-term engagement for Robatech.
With the change of the RSD and other staff members in the Nordics, it was time to get together and look ahead. For this reason, the new leader and his team met for two days in Halmstad, Sweden. Together, they discussed their strategic focus, were trained in the new CRM system, and socially created the basis for successful cooperation on a long walk and a barbecue.
Rikard Jönsson and his team are confident to continue and grow the company on the basis of what Sören Tolstrup has built. A challenging task, given the experience and spirit that Robatech had not only with Sören Tolstrup, but also with Bente Bruhn. She was a longtime administrative employee, who helped shape the company culture with her warm demeanor. "Robatech has fantastic employees, who together will reach new heights in the future. The future shines bright green", says Rikard Jönsson with a wink.