7. november 2023
New inflatable cushions from SEE containing at least 95% recycled plastic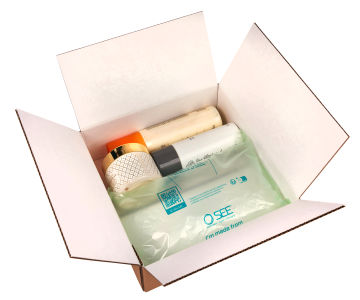 SEE® (formerly Sealed Air) has launched a new range of BubbleWrap® Brand inflatable air pillows containing a minimum of 95% recycled plastic content to support e-commerce and fulfilment companies in meeting sustainability goals.
To complement the utilisation of recycled plastic content, the new BubbleWrap® brand Extreme HRC Air Pillows are thinner and more lightweight than alternative Low-Density Polyethylene (LDPE) inflatable cushions. This helps to reduce material usage and energy consumption, without compromising protective packaging performance.
Andrea Questa, Fulfilment Marketing Manager EMEA at SEE explains: "We've developed a thinner protective air pillow film of 20 microns, which uses around 20% less plastic content than comparable performance air pillows that are 25 microns. This enables companies to reduce packaging material usage and can help further improve sustainability through lower energy consumption during the manufacturing of packaging and the transportation of packaged goods.
"The high density BubbleWrap® brand Extreme HRC Air Pillows have effective air retention to provide a lightweight void fill and protective cushioning solution."
The new air pillows are made using a mix of 40% Post-Industrial Recycled (PIR) and 55% Post-Consumer Recycled (PCR) plastic and can be inflated on demand using SEE's BubbleWrap® Brand Rocket® packaging system. This can produce up to 100 pillows per minute, enabling operators to inflate cushioning quickly and consistently when they need it to reduce storage requirements for packaging.
Andrea said: "BubbleWrap® brand Extreme HRC Air Pillows are available in long rolls of 1,280 metres to meet operator requirements for fewer packaging changeovers and to minimise scheduled downtime. The Rocket® system and Extreme HRC Air Pillows are an ideal solution for operators processing between 250 – 500 packages per day and who are keen to meet growing demands for sustainable packaging and supply chains."
BubbleWrap® brand Extreme HRC Air Pillows are available in four widths including 200mm, 250mm, 300mm and 350mm.