18. december 2017
Visit Newtec at Fruit Logistica 2018
By delivering high quality and making things work, Newtec remains focused on solving their customers' challenges. As Newtec continues to expand into fresh markets, they are presenting their solution for weighing and packing of mixed, fresh, cut fruits in trays at the upcoming Fruit Logistica exhibition.
Visit Newtec's stand:
Stand no.: A-11, Hall 3.1
Date & Venue: February 7 to 9 in Berlin ExpoCenter City and City Cube, Germany.
On exhibit: Newtec Mini Weigher, Model 2008PCM for processed food
Ideal as a single machine or as part of a mixing line with e.g. 4-6  Mini Weighers
Application: 
Processed food such as:
Dried fruits
Snack products
Small frozen products
Similar small products

Advantages
Minimal giveaway: Typical giveaway: less than 0.4%
High speed – up to 65 portions/min.
Small machine with low drop height.
Removeable chutes for cleaning.
WebServices enabled for remote servicing and for capturing production data.
Key words of the machine are high speed, weighing accuracy and flexibility. The Mini Weigher handles mix of e.g. various fruits in ONE tray.
One Newtec Mini Weigher is required for each product. The weighing machine ensures up to 55 portions/min. at 200 g. and the portion range is 50 g. to 500 g.
Example of the flexible Newtec solution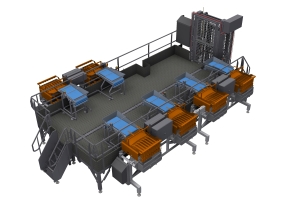 A solution could consist of one line – 4 x 2008PCM which are connected. The customer pre-defines a recipe on a machine and the software
ensures that the target weight is correct.
The three products, e.g. green and yellow melon and pineapples, are weighed as close to target weight as possible, filled nicely in a tray and
subsequently topped up with the fourth product e.g. grapes.
The Mini Weigher is suitable for fragile delicate products, such as berries, cookies and fine chocolates as the products are handled very gently with low drop height.
 Easy access to cleaning and service
Quick dismantling and assembly of weigh pans, vibrator chutes and funnels makes it easy to get access to cleaning and service without using tools.

Stand no.: A-11, Hall 3.1
For more information, please contact Newtec or visit their stand at Fruit Logistica.
Read more about their wide range of weighing machines on their web site.
http://www.newtec.com