30. marts 2021
Vision – The new adhesive melter from Robatech
Energy-efficient adhesives preparation and reliability in high-precision adhesive application.
With Vision, Robatech presents a new, energy-efficient melter for high-quality adhesive application. Innovative features such as the Smart Terminal and FlexPort offer high operating comfort and provide great flexibility for a space-saving installation in systems.
Vision is a completely new adhesive melter that stands out clearly from its predecessors in the Concept series:
Vision can be installed lengthwise or crosswise. The innovative 45-degree FlexPort connection surface allows heated hoses to be connected at different angles to save space. This provides flexibility in positioning the device.
The Smart Terminal dynamically displays current operating and status information via a colored LED strip. This enables operating personnel to see, even from a distance, whether the gluing process is running smoothly or what intervention is required.
The inner workings are new and meticulously thought out: The fast-switching pump for repeatable, uniform adhesive application, the compact arrangement of all maintenance-relevant components, the optimum heat distribution, and the innovative tank insulation. The result: Vision achieves industry-leading energy efficiency and excellent melting and delivery quality.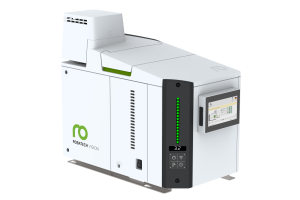 At the same time as Vision, Robatech launched the new Performa heated hose on March 17/18/23 in an online world premiere. Compared to Robatech's proven Enduro heated hoses, Performa requires up to 45 % less energy. With the innovative PrimeConnect plug coupling, Robatech sets a new trend for plug-and-play connection of heated hoses.
Press release
More about the new products: https://vision.robatech.com/