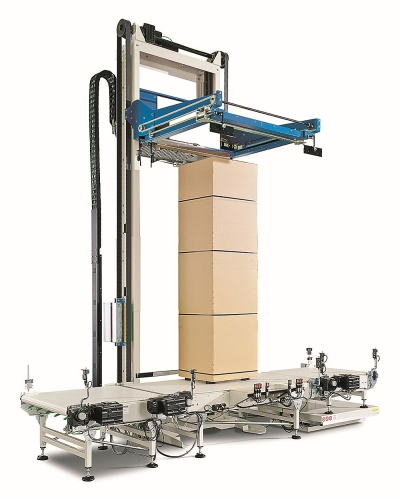 Manufacturers of furniture and household items primarily use strapping to protect their products with corrugated cardboard or other materials for transport. Along with processing speed, one of the key challenges in preparing packages for transport is the variable product heights. The Mosca EVOLUTION SoniXs MS-6-H masters both problems with ease. Up to ten individually programmable settings ensure a wide variety of products can be securely strapped. The operator simply selects a program on the touch panel.
Alternatively, a sensor on the EVOLUTION SoniXs MS-6-H can measure the height of a product. The machine then straps products automatically based on the parameters set by the customer. The SoniXs side sealing unit and reduced wear electromechanical components ensure smooth, reliable operation, even at high cycle rates.
Maximum availability and efficiency"Our customers – especially those in the furniture and household appliances industries – are always looking for strapping machines that work perfectly. A breakdown can potentially halt their entire production," explains Christian Zwieb, Head of Project & Product Management Mosca.
"The EVOLUTION SoniXs MS-6-H guarantees maximum availability and efficiency." Mosca developed the strapping machine in close cooperation with the company Häcker GmbH und Co. KG, where it is already in use. "We are very satisfied with the quality of the machines and the cooperation with Mosca", says Friedbernd Bartels, Technical Projects.
The EVOLUTION SoniXs MS-6-H is a horizontal strapping machine with a freely adjustable horizontal frame. It is currently available in four sizes, ranging from 1000x1000mm to 1400x1400mm. Packages up to 2.3 meter high are placed under the frame with or without additional protective cardboard using a customer or Mosca-specific conveying technique. There is no need for the product to align perfectly with the sealing unit because the frame can be positioned horizontally and will deliver an excellent strapping result. The vertical processing speed is about one meter per second. This enables users to triple-strap up to 180 products per hour. With the package so close to the side sealing unit, the EVOLUTION SoniXs MS-6-H can strap it with high tension.